Hey!
We wanted to wish everyone a happy and cheerful end of the year, and a solid hope that 2018 is better for everyone. If you're celebrating any holidays this season, whether with friends, family, or on your own, we hope you have a safe and pleasant time. To wrap things up for '17, we have a bit of news to share, as well as some cute art.
First off, we've decided that we're going to release demos for both The Waters Above and Heart of the Woods next year. We anticipate both games being out in mid to late 2018, but the demos should be out early in the year. We've got a couple special events coming up to tie in with those releases, but more on that later (if WordPress supported the :eyes: emoji, I'd have included one of those here).
Let's talk about TWA. Namie was kind enough to draw us some chibis for Christmas, so thanks to her for that~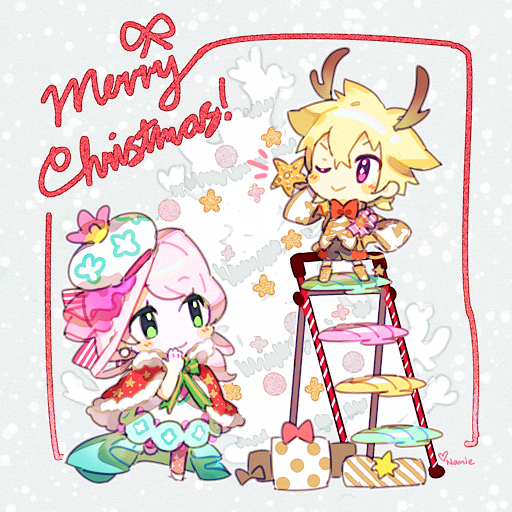 The game's composer, Astartus, also put together a music box medley of some of the songs from the official soundtrack! The full thing seriously sounds so good, and will be available for purchase along with the full game. I hope lots of people buy it just so we can justify getting it printed to vinyl. We have more soundtrack related news to come – we'd been hoping to be able to announce it this year, but have to wait a little longer.
Our plans for TWA's demo are a little bit different, too. Rather than just uploading the first couple scenes or something, the demo will consist of four short stories, each from the perspective of a different main character, and they won't be part of the full game release. Our goal is to give you an impression of what TWA will be like, without spoiling any of the main story. And without using too many of the game's CG images.
We're aiming for March to have that demo out, although we're not gonna commit to that quite yet.
Now for Heart of the Woods. HOTW will be longer than TWA; probably somewhere around two to three times its word count. The demo we have planned for it is a little bit more traditional in nature, consisting of a few of the earlier scenes in the game. However, it's more like a selection, rather than a slice, because we're going to pick and choose which scenes are included. Tara and Maddie will be there on the fourth wall to fill you in on the context and guide readers along.
We hope you liked that sample of Astartus' music from above, because he's also going to be helping out with the composition of HOTW's soundtrack. He'll be joining our other composer, Sarah, and they'll each be responsible for about half of the final product. Which is super great, because they're both wonderful musicians.
Finally, here's one of the variations of a CG in-game, recently completed by Rosuuri. As always, it's absolutely stunning. Be sure to check her out and give her lots of love on Twitter – she deserves it! While you're at it, you can check out the @vnstudioelan Following list to see everyone who's working on our games, if you feel like giving the rest of us a follow!
That's about it for this time, at least as far as updates go. It hasn't even been a year since we first started our social media and working on our games, so we've been really honored by the positive feedback so far. To end things off, there are some personal messages from a few of the studio members. Thanks for reading and sticking with us! We'll see all of you in 2018!
* * *
"Hi everyone. You might know that I'm a total sucker for cheesy sentimental end-of-the-year messages, so I'm going to try to rein that in a little bit. In a lot of ways, 2017 has been one of the best years of my life, and a huge part of that is owed to my dear friends at Élan. I'm sincerely grateful to each and every one of them; it's a joy and an honor to work with them. Thank you as well to all of our fans and supporters, and to everyone who's looking forward to our games. We won't let you down. I couldn't be more excited about the games I'm working on with Élan and with Alienworks, and I hope that everyone will enjoy them next year!"
-Josh (Studio founder; HOTW Director, Writer; TWA Editor)
"Happy Holidays everyone! It feels like I haven't seen the sun in 3 months! Not sure if that's from all the work or if I should just blame it on the shorter days and grey skies. Also, I'm not sure what a holiday is anymore either. Do sea nymphs celebrate holidays? Which ones? How? Why? These are all questions I should probably know the answer to, but don't! Such is the life of a director!
Progress on our games has really been coming along and it's amazing to see things start to pull together and take shape. And the closer we get the more excitement I can sense, not only from our team but from you all as well. It's infectious and it means the world to me. The year may be ending but I don't really feel a sense of finality. Instead I feel pushed forward by an ever-building momentum, ready to launch me into what comes next.
So! In closing! I love you all!! I love every one at Élan who has worked so hard to make our collective dreams and visions come true, and I love each and every one of you who has supported us with your interest and your kind words. Thank you all so much."
-Ally (TWA Director, Writer; HOTW Editor)
"Hey folks! 2017 is winding down, but we're as busy as ever.
I'm a relative newcomer to the Élan team, but one thing that quickly became clear is that everyone involved has an incredible passion and love for what we're creating. I want to personally thank Josh for having faith in me and giving me this opportunity, and the entire team for being so completely amazing and inspiring. It's an honor to be contributing to the soundtrack for Heart of the Woods. You all are not only talented beyond compare (moreso than you even realize), but wonderful friends as well, and I'm so happy and fortunate to be a part of this team.
To everyone: Happy holidays of your choosing, and here's hoping for a great 2018. I'm eagerly looking forward to being able to show our work to the world in the coming year. The love we've been shown by the Élan fan community has been incredible (there's already fanfiction about visual novels we haven't even released yet!) and we hope to live up to your expectations! Love you all!"
-Sarah (HOTW Composer)
"Hi everyone! Happy holidays!
Working for Élan has been one of the best things that's ever happened to me. I've wanted to be a writer since I was a little kid and I'm eternally grateful to Josh and to all the awesome members of the team for giving me a chance to make that dream come true! Working with people I consider to be true friends has made it very clear that what we do is first and foremost a labor of love. So I want to thank everyone here at Élan for being the best team I could ever hope to work with.
And thank you to all of you as well! Seeing people get excited about what we're making is a source of endless joy and motivation for me. I can't wait to hear all of your thoughts and comments once Heart of the Woods is finally in your hands! I know you're going to love it. Have a wonderful 2018, and we'll see you soon!"
-Rachel (HOTW Writer)
"It was only a few months ago that I joined Studio Élan, but I feel like I've gotten to know the team and our projects so well during this time. Everyone is working so hard to create these two beautiful projects and I'm so happy I can be a part of this journey.
Thank you to everyone who has supported us so far! I'm so proud to know I am part of such a positive, loving atmosphere both in the team and out. Thank you for believing in us. With Studio Élan, I hope I can help bring the fantastical, beautiful worlds of our projects to life. 2017 is just about over, so let's work together to make 2018 a better year. Happy holidays, to friends, family, fans, and team members alike."
-Minutekiwi (HOTW Programmer, TWA Programmer)
"Hi, and happy holidays from Germany! I'm quite the new face at Élan, but I expect you'll hear quite a lot of me in time… but for now, enjoy a holiday rendition of the TWA soundtrack! I wish you calm and stress-free vacation days, and a happy, safe and relaxing new year!"
-Astartus (HOTW Composer, TWA Composer)